In the mystical realms of ethereal dimensions lie the enigmatic and magical Angel Cards. These divine deck blessed by celestial powers schlep the secrets of the spiritual world and ancient wisdom to perceive the unseen. Unfolding the secret insights woven with enigmatic symbols these cards offer guidance through the labyrinth of life's mysteries. They decipher the celestial language of the universe , delivering messages of hope, guidance and encouragement from the divine.
To unveil these hidden messages from the spiritual realms the first step is to get an Angel Card Deck. There are innumerable decks available, figuring out which one to get can be confusing. We bring to you a compiled list of some popular card decks use for Angelic readings.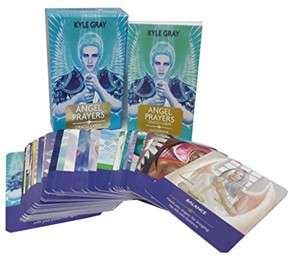 These cards are a powerful spiritual tools that helps in gaining reflective wisdom and healing support from the angels precisely in real and positive manner. The cards are made using modern imagery with traditional symbolism. The cards features loving messages from angels, archangels, the divine mother and the divine father. Published by Hay House this deck comes with a guidebook as well as explanations on the card face.
This is a beautiful card deck and a piece of art by Josephine Wall. This stunning deck features guidance from goddesses, fairies, mystical creatures and spirit animals along with the Archangels. These cards provide guidance through challenges and getting back on track, leading a happy life.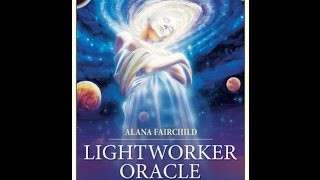 This card deck is a medium to connect with divine light and higher frequencies to bring about healing to the world. These cards provide guidance on making a positive impact on the planet, evolve spiritually and develop abilities to work with different energies and communicate with the spiritual messengers. This decks supports in connecting with the divine light, angels and higher realms of consciousness and provide guidance accordingly.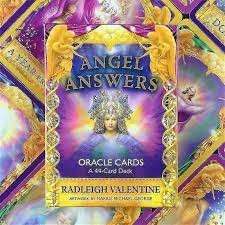 Want to keep it short and simple? Angel Answers Oracle Cards deck are helpful to find simple and on point answers to your queries. They provide trustworthy guidance as and when required. The best selling authors of Angel Tarot Cards, Doreen Virtue and Radleigh Valentine, brings you this deck of 44 beautifully illustrated cards along with step-by-step instruction booklet. This card deck gives straightforward answers to give clarity in what you are seeking. These cards are very helpful to start working with angelic energy for the first time.
There are many other oracle card deck like Angels of Light cards by Diana Cooper,  Oracle of the Angels by Mario Duguay and so on. As one delves deeper into the enigmatic realms of Angel cards, they encounter the celestial messengers who traverse beyond time and space and bring love, guidance and protection. Surrendering to the Angels provide wisdom to navigate through the voyage of life.